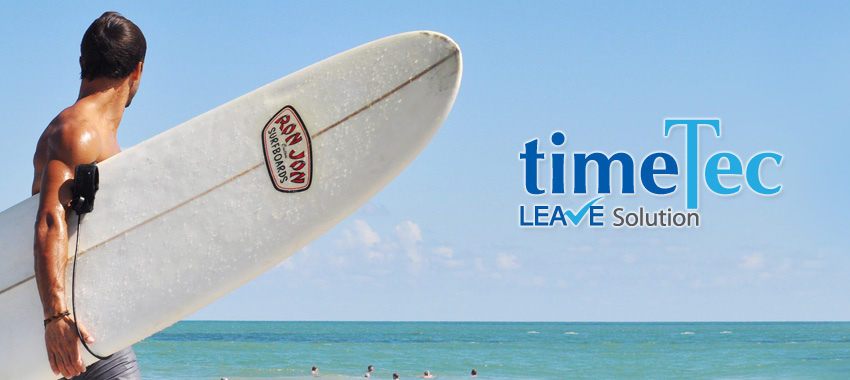 TimeTec Leave is Coming Your Way!
Manage Employee Leave Seamlessly
TimeTec will be introducing the latest solution in workforce management, TimeTec Leave. This new cloud-based employee leave management totally transforms the way companies manage employee leave, from manual to automated, making every process easier and seamless. With TimeTec Leave, employees can apply leave straight from the web or from TimeTec Leave app and get approval instantly through the same channels.
TimeTec Leave is loaded with amazing useful features including:
• Automated Leave Administration

, providing automatic accruals on any employee leave types, whereby users/admins can accrue balance by selected durations.
• Comprehensive Report Generations

, where you can print, export, view and generate leave reports by day, month, year, and filter them according to your needs. You can also view time-off balances, requests and employee details along with 20 other handy reports to you requisites.
• Real-Time Calendar View of Leave Applications

, providing you with immediate real-time displays of leave transactions that may vary in the calendar.
• Leave/Permission Customization Flexibly

, where you can add custom leave types (i.e., vacation, paid leave, personal days, sick days, appointments, etc). There are 3 levels of users (Administrators, Operators, Employees), each with their own individual permission access. The solution also defines Special Event days, where employees cannot request time-off and are warned or notified on the calendar. The system then respectively displays leave balance in hours or in days for easy reference.
• Leave Management On-The-Go

, allowing employee to carry out leave management including applications, approvals, viewing, amendments and many more from anywhere anytime via TimeTec Leave App available in iOS and Android smartphones.
• TimeTec Leave App

, a useful mobile tool that tackles leave management straight from your smartphone for speedy action and convenience. Employee can manage his/her leave and the management can respond to any requests or applications effectively without using a lot of printed forms or causing delay due to bureaucracy.

And many more.
Let's shift to TimeTec Leave for a more transparent, convenient and accurate leave management system to date. Enjoy our introductory offer, buy any 2 solutions and get the second solution half price. This offer valids for TimeTec TA or TimeTec Leave only and it is subject to the . Watch out for the announcement and get ready to experience modern leave management system from your own smartphone!